Many eCommerce businesses do not know the growth potential of optimizing their websites for search engines. Instead, they rely on social media or paid ads to generate leads and sales. Which are way more expensive and have less ROI compared to SEO.
In this article, we cover what SEO can do for your eCommerce business.
What is SEO and why is it important for e-commerce?
Search Engine Optimization (SEO) is the process of optimizing your website around specific keywords in order to rank higher in search engine result pages, such as Google. To get a fully optimized webshop, there are many elements to cover. Some of those are related to the technical aspects of SEO, others to the creative user-experience and design parts of the webshop.
But optimizing your site, ultimately, means one thing: Creating the best possible content for your target keyword according to search engine algorithms, competition and type of industry.
How to get an SEO proof webshop?
Google's goal is to rank search results that answer all of the searcher's questions without the need to search again for an answer.
There are some tasks you can perform to meet these requirements:
Reveal the most thorough answers to the broadest range of questions around a topic.
Use relevant images, videos, or examples to explain your points.
Provide better user experience through a faster website, a better mobile experience, a more intuitive interface, etc.
Get people talking about your brand and get relevant backlinks.
A study by Outbrain shows that the first driver of traffic to content sites is search, beating paid, social media and referral traffic altogether.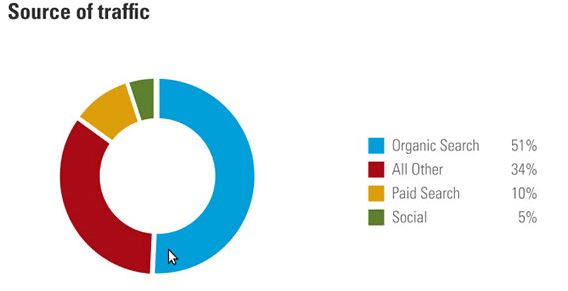 Ecommerce web traffic in Switzerland
According to Datatrans report, Switzerland e-commerce performance is continuously growing. For instance, Swiss consumers spent 10 billion Swiss francs online in 2019. E-commerce volume is up by 8%. Almost all study participants anticipate further growth in 2020. COVID-19 has boosted e-commerce further and this year's results could well be three times as high as in 2019.
How eCommerce sites can drive organic traffic?
To drive traffic to your eCommerce business, you will need good product descriptions that express clearly the features and benefits as well as the problem your product solves. Additionally, you will also need to use eye-catching images, and good reviews to help visitors make purchase decisions. You have to make it easy for visitors to purchase your products by improving the UX for your website, and showing social proof of your best products.
SEO is a holistic effort of all pieces of a business, including social media, marketing, web design, networking and copywriting.
Some key tactics to include in your eCommerce SEO strategy
Keyword research to find the types of keywords customers are using in their search:
if you get this part wrong, one of these two things will happen:
You'll target keywords that are too difficult to rank for, and you won't appear on the first page of the search results.

You'll rank for keywords that don't get a lot of traffic or don't attract customers to buy your products.
Neither of these situations is ideal, which is why eCommerce keyword research is so important. The keyword research ensures you to target keywords that are fairly easy to rank for, have decent search volume, and have high conversion rates.
However, not only the difficulty of the keyword but also the buyer intent (or the "commercial intent") is an important SEO factor for eCommerce.
Site architecture based on your keyword research
Once you know the right keywords to target, it's time to put that information into action.
This starts with your site's architecture. Ecommerce site architecture is how you set up your navigation, category pages and product pages. At its core, it's about getting the best, most relevant content in front of users and reducing the number of times they have to click to find it.
How to get an excellent site structure:
Go for a simple website theme that is scalable

No page should take more than three clicks to get to from any other page

Perform keyword research to create relevant page URLs and subdirectories
For instance, see the below site structure. It takes the user 4 clicks to reach to the category pages at the lower level which is considered bad.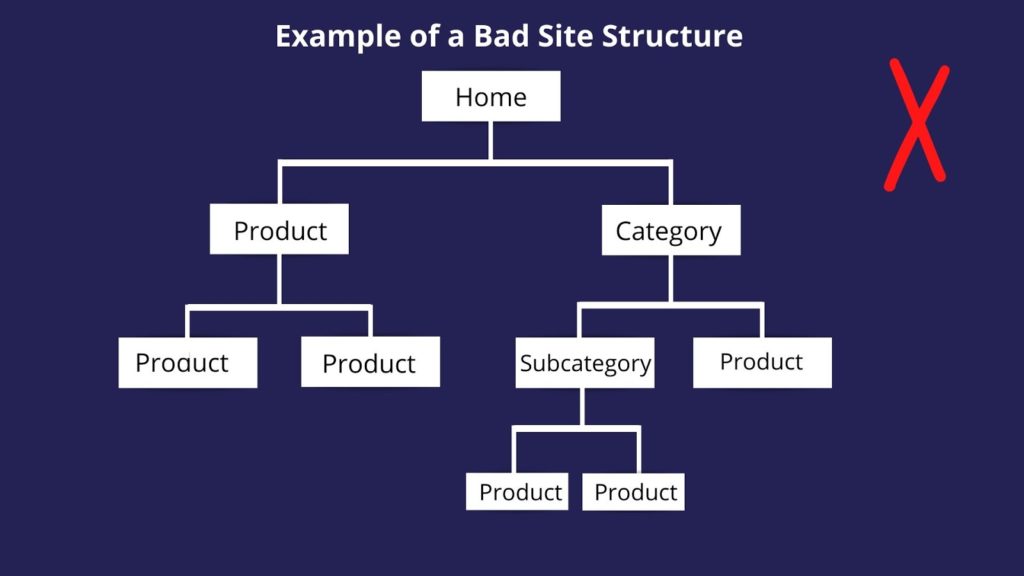 Compare it with the below sire structure. The user can reach the main category pages through the main home page which is a good site structure.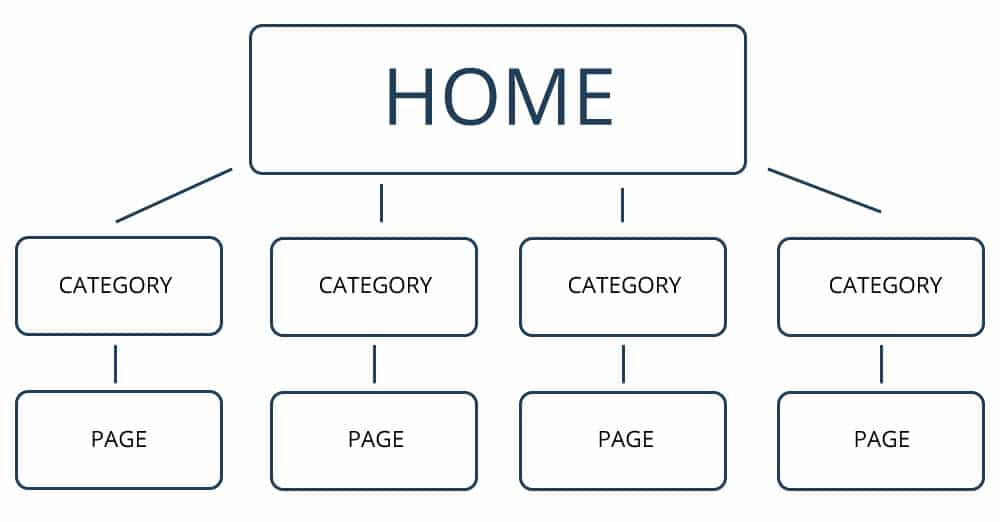 On-Page SEO for eCommerce websites
Just like with business pages, for eCommerce, you will need on-page SEO as well. You have to make sure the keywords are in the right places (such as the main headers and the beginning of the sentence of the first paragraph..etc.), in order to let Google know what your pages are about.
An on-page SEO strategy for eCommerce sites contains SEO for category pages, product pages, and for your blog pages. Doing this right, your webshop will appear high on the search engine result page (SERP). Thus enable the growth of your eCommerce business.
Technical SEO for your webshop
In order to ensure search engines can crawl your site efficiently, you will need to perform some technical SEO tasks. These include optimizing webpage speed, user experience, mobile-friendliness, and internal as well as external links. The goal is to make it easy for your web visitors to access and navigate through your webshop pages to find products.
Link building for eCommerce shops
To improve your ranking in Google Search, link building is an important task as well. It will help you enhance the authority of your webshop. You need to ensure that pages of your webshop are linked with each other, and you need to get external links. External links are backlinks from other relevant websites. To get backlinks, you will need to work together with other webshop owners in your industry. It is important that these backlinks are relevant to your products, and that these are of high domain authority.
Local SEO for Retailers
Retailers with a physical store and a webshop, need local SEO to help drive local organic traffic.
For local SEO, you will need to fill in your Google My Business profile. Potential buyers can then find your physical store when they are in your neighbourhood.
Need to asses your eCommerce SEO performance? Get in touch here.